If your home suffers damage from a storm it can be very upsetting. You may feel frustrated, helpless or panicked. However, it is very likely that your insurance company will cover some or even all of the repairs that your home requires. That is, if you know what your insurance policy offers and can prove to your insurance provider that your home has sustained damage. We know that filing an insurance claim can be overwhelming at times. That is why we have created a step by step roadmap to help you file a claim and repair your property.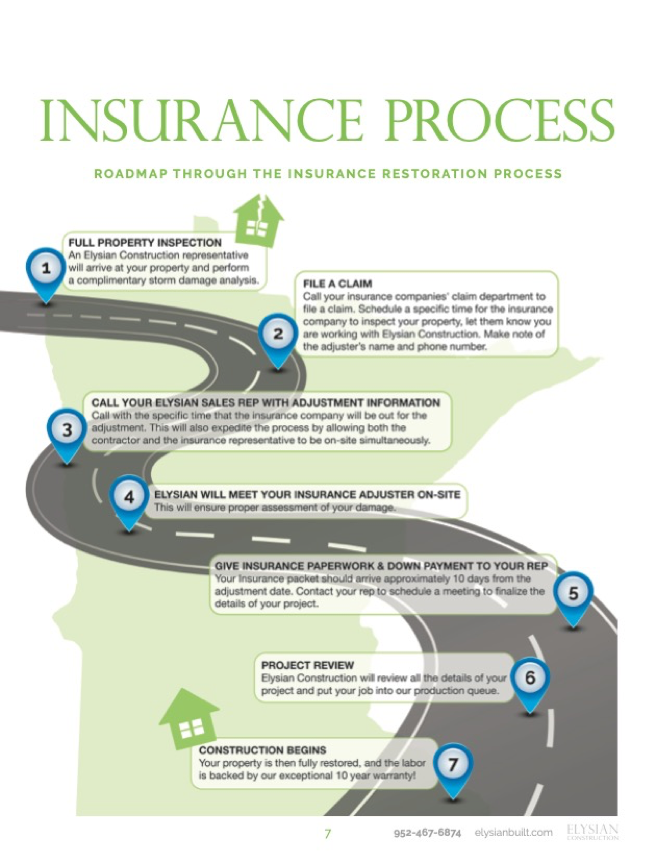 1) Step 1: Inspection
The first step in the insurance claim process is having a full property inspection from Elysian Construction or a similar contractor. This should be done as soon as possible in order to minimize the risk of further damage to your home and to ensure that the damage will be covered by your insurance.
2) Step 2: File a Claim
If it is determined that your home has damage, you should then call your insurance company's claim department to file a claim. Our experts at Elysian Construction will gladly walk you through this. When this is done, you will need to schedule a time to have your insurance company inspect your property. Let them know who you are working with so that they are prepared for your sales rep to be on site.
3) Step 3: Contact Insurance
Contact your contractor with the time that your insurance company will be inspecting your property.
4) Step 4: Home Assessment
This will allow your contractor to be on site and guarantee the validity of your insurance company's assessment. You must keep in mind that insurance companies are a business and that businesses exist to make money. Your contractor is there to make sure that the insurance provider holds up their obligation to you, their policy holder, and that your home can be repaired at the lowest possible cost to you.
5) Step 5: Detailed Repairs
After your insurance adjustment has taken place, your provider will send you the paperwork detailing the cost of the repairs that they will cover for you. This paperwork must be given to your contractor's sales rep in order to finalize the details of your project.
6) Step 6: Project Review
After finalizing the details, your contractor will review your project and put it in their production queue.
7) Step 7: Construction Begins
Finally, construction will begin, and before you know it your home will be fully restored.
Insurance claims following storm damage to your home can make for a very stressful time. This is why at Elysian Construction we strive to minimize your stress and help in every way possible. We have many years of experience working with insurance companies and we stand behind our quality service. If you think that your home has been impacted by storm damage and you would like a free inspection from one of our experienced sales reps, click here. We will send one of our experts to your home as soon as possible to get you started on the process of fully restoring your home.
-------------
Contact us

today to schedule a Free Roof Inspection and one of our senior roof experts can provide a full exterior inspection of your roofing system.